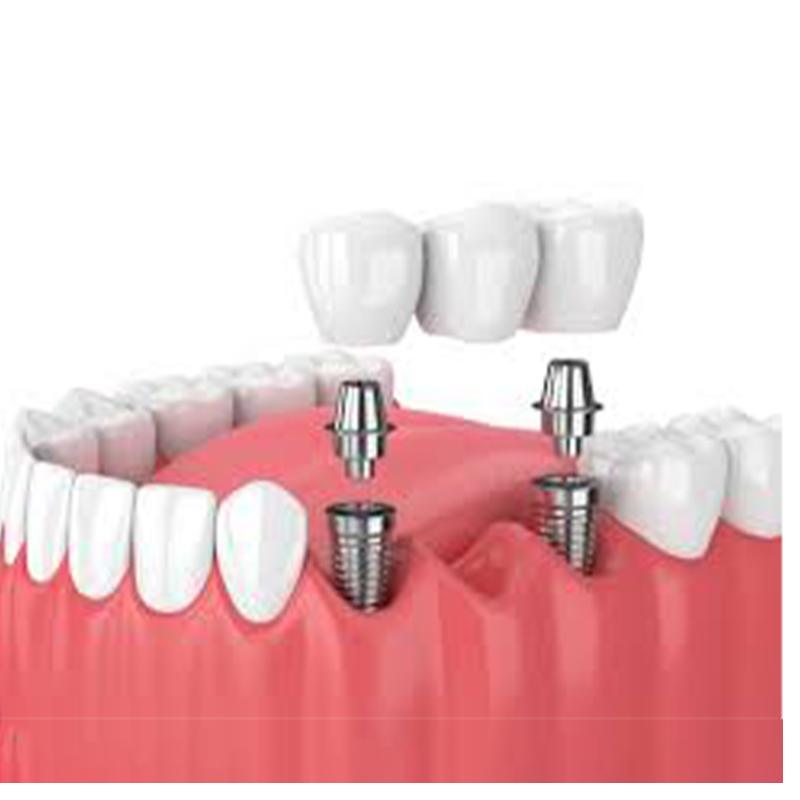 Implant-Assisted Bridge

What is an Implant-Assisted Bridge?

Implant-assisted bridge is a very comfortable and healthy application in multiple tooth losses.

Implant applications are the healthiest, most protective and comfortable way of multiple tooth losses.

Thanks to implants, neighboring teeth do not need to be cut, thus preserving solid teeth. In addition, the jawbone at the site of the pulled tooth is preserved. If no implant is made, prosthesis should be used for multiple tooth losses. Prosthetic therapy is not comfortable and strong for every patient. In particular, mobile prostheses are not recommended unless required both visually and in terms of difficulty using them. However, implant application reveals very successful results in patients seeking aesthetics and robustness.

In case of multiple tooth deficiencies, implants are placed where necessary instead of one implant for each tooth deficiency, and bridge applications on it are often seen as a preferred method.

How many teeth deficiency and how many implants are required may vary depending on the decision of the physician as a result of the examination.

Not all the time! In teeth with multiple spaces, an implant-assisted bridge is applied. In traditional dental bridges, side teeth are cut and support is provided. In some cases, however, the loss of three or four teeth can be side by side. In this case, the bridge to be made by cutting teeth will be very long due to the strength and the melting of the jawbone under the tooth-assisted bridge will continue.

In such cases, it would be an ideal treatment to insert fewer implants than the number of missing teeth and apply bridges between them.

In this way, healthy and durable implant-assisted bridge treatment is made with less implant costs.

How long is implant-assisted bridge construction time?

After the implant is surgically applied, the measure of the jaw and teeth is taken. It is then prepared in the laboratory environment. This period lasts from one to two weeks. During this time, a dentist is consulted for an average of three sessions of rehearsals. Within an average of two weeks, your implant-assisted bridge will be completed.

Implant Assisted Bridge Advantages

Healthy teeth are not damaged when the bridge is applied. Through the implants, the bridge is fixed and the teeth next door are not damaged.

One of the nice things is that it is fixed like a natural tooth. Natural tooth comfort is provided by the procedure to the jaw root.

Another advantage is that it eliminates the use of mobile prosthesis.

Implant Bridge Maintenance

Because it's an artificial application, it requires a little more care. Compared to natural teeth, wear, impact rate, substances in the contents are directly proportional to cleaning. If you want a long-lasting use;
Do not neglect to brush teeth twice a day, floss under bridges and oral care water. You should also be sensitive about nutrients. Hard, crustaceans should be avoided. Although it is built on a solid structure, the porcelain tooth on it can be damaged.



ımplant assisted bridge